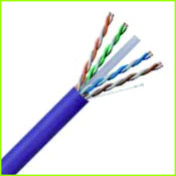 Cat-6a:
The "a" in Cat 6a stands for "Augmented" and the standard was revised in 2008.
The Cat 6a cables are able to support twice the maximum bandwidth, and are capable of
maintaining higher transmission speeds over longer cable lengths.
Cat 6a cables utilise shielded which is sufficient to all but eliminate crosstalk.
However this makes them less flexible than Cat 6 cable.
NOTE: 250-500Mhz/10 Gbps /100m.